As we continue to fight COVID-19 (or the novel coronavirus), my office is committed to working with state partners to ensure that all constituents have easy access to updates and state resources. If you have any questions or concerns, please do not hesitate to reach out to my office. 
I encourage you to
sign up for my e-newsletter
, I will be regularly sending out updates regarding COVID-19 via email. I also encourage ou to visit 
covid-19.ca.gov
, the official state website on COVID-19 resources. 
 Senior Resources   |    Updates on testing guidelines/statistics   |     Guidance on evictions and foreclosures
Support for Employees, Employers and Small Businesses   |   Support for families
---
May 18th: The state announced additional guidance on stage 2 reopenings for counties, including criterion including.
No more than 20 people hospitalized in the county for the last 14 days
No more than 25 individuals diagnosed with covid per 100k residents over past 14 days
Test positivity rate of less than 8%
May 12th - 13th: The state released further guidance on phase 2 reopening for dine-in facilities. The California State system also announced guidance for the 2020 fall semester. 
May 11th: Today, I convened the Assembly Accountability And Administrative Review Committee to discuss COVID-19 specific developments. The state also announced a request from the western pact for additional funding. 
April 30th - May 1st: The state has announced a new portal to help parents find local child care options. Individuals can visit covid19.ca.gov/childcare for details. 
April 28th-29th: The Pandemic Assistance Program portal has opened. 
The PUA provides financial assistance to Californians who are business owners, self-employed, independent contractors, have limited work history, and others not usually eligible for regular state unemployment insurance benefits. 
Once approved, benefits for claimants who already have an EDD debit card will likely be deposited within 24-48 hours. Approved claimants who do not have an EDD debit card should receive their benefits within 4-7 days. Interested parties can apply online (easiest and highly encouraged), over the phone, mail, or fax. More info and app: https://bit.ly/3aMiRqT
 
If you need to reach EDD over-the-phone:
For UI general and technical support, contact:  1-833-978-2511, seven days a week
For UI claim support line, contact 1-800-300-5616, M-F 8AM-12PM
 
April 21st: Here's a look at the current case breakdown in California, courtesy of the California Department of Health
My office has also received several questions on the demographics of those who have been impacted by COVID-19, wanted to share this state-based breakdown. 
Finally, I wanted to confirm that both the UC and CSU systems will be suspending requirements for the SATs and ACTs for Fall 2021 applicants. 
April 20th: Over the weekend, the governor visited the Project Roomkey facilities in Santa Clara, and also announced new digital partnerships for distance learning.
April 17th: The state has announced a new government task force focusing on business, jobs and health recovery. Learn more here. 
April 16th: If you missed my town hall on EDD/unemployment benefits, you can catch the replay here. 
April 14th: The State introduced a plan featuring six critical indicators which the state will consider, before changing current stay-at-home guidance. Covered California also has a continued special enrollement period for anyone impacted by COVID-19.
April 13th: The State of California has announced a pact with Oregon and Washington State to determine next steps towards reopening, and announced a $42 million fund to protect foster youth and families. 
April 10th: The State of California announced $100 million in childcare for essential workers, and additional resources for residents and employees of nursing homes and residential care facilities. 
April 9th: Governor Newsom and the state of California have announced additional unemployment benefits for those impacted by COVID-19. 
April 6th/April 7th: Governor Newsom has issued an executive order to help procure necessary medical supplies to fight COVID-19. Governor Newsom will be loaning 500 ventilators to the national stockpile to assist states who are in urgent need at the moment, and shared the state's plans for addressing the need for expanded hospital capacity. 
Over the weekend (April 4th), the Governor  announced the creation of https://covid19supplies.ca.gov/, which will allow individuals and companies to help facilitate donations and resources for 13 of the most essential medical supplies needed for the COVID-19 fight. He also announced expanded access to childcare for essential workers to COVID-19.
On April 3rd, the State announced Project Roomkey, which aims to provide 15,000 rooms for those most at risk by COVID-19. They will be supported by Chef José Andrés's World Central Kitchen. Today also marks the first day for the federal Paycheck Protection Program application. 
On April 2nd, Governor  Newsom announced OnwardCa.org, a one stop resource for Californians impacted by job loss due to COVID-19 pandemic. The Governor also announced $50 million in loan guarantees for small businesses that may not be eligible for federal relief, as well as $17.8 million in new state initiatives to support California workers impacted by COVID-19. The allocation will come from Workforce Innovation and Opportunity Act funds.
Governor Newsom also issued an executive order protecting homes and small businesses from water shutoffs on April 2.
On April 1st, the state announced a COVID dashboard and an agreement with educators to support students with distant learning, with donations from Google. 
On March 31st, Governor Newsom announced additional relief for small businesses, including deferred tax payments. The state has also created a hotline (in partnership with AARP) to better support seniors. 
On March 30th, Governor Newsom announced the creation of the California Health Care Corps and encouraged individuals to apply. The state now also has a stay home, save lifes campaign. 
On March 27th, the Governor announced a moratorium on all evictions, active until May 31st. The REAL ID deadline has also been extended to October 2021. 
On March 26th, all California  DMV field offices have were closed. The state received a letter suggesting guidance from the federal level. 
 
On March 25th, Governor Newsom held a press conference and confirmed Wells Fargo, Citi, JPMorgan, and US Bank have agreed to a 90 day grace period for mortgage payments for those impacted by COVID19.
The USS Mercy will be arriving in LA this Friday (3/27), and will be picking up individuals who are prioritized. This is a 1,100 strong crew and decompression strategies are being developed. 
On March 23, Governor Gavin Newsom announced the closure of state parks and beaches to combat COVID-19.  A list of closures can be found online at www.parks.ca.gov/FlattenTheCurve. The Governor also awarded $100 Million to Cities, Counties and Continuums of Care to Help People Experiencing Homelessness During COVID-19 Pandemic.
March 23, deadlines for the Real ID have been extended. 
On March 21, the Governor's Office released guidance on essential services.
Governor Newsom directed $42 million in emergency funding to expand California's health care infrastructure and secure equipment and services to support California's response to COVID-19.
---
On Monday, March 16th, the legislature passed a $1 billion package, in critical funding to fight #COVID19. Funding will be used for hospitals, first responders and schools. We'll continue to work with every level of government to ensure all those who need it, will have access to this funding.
Here's my message on the passage: 
The state has also established a COVID-19 specific hub, with daily updates.
---
On Sunday, March 15th, the governor ordered all California residents age 65 and older to isolate themselves at home. Here's the latest: 
DMV allows customers to avoid coming to a DMV office for 60 days - California law enforcement has been asked to exercise discretion for 60 days in their enforcement of driver license and vehicle registration expiration dates beginning March 16, 2020. This is so  at-risk populations, including seniors and those with underlying health conditions, can avoid required visits to DMV field offices.
Caregiving -  If you're unable to work because you are caring for an ill or quarantined family member with COVID-19 (certified by a medical professional), you can file a Paid Family Leave (PFL) claim. PFL provides up to six weeks of benefit payments to eligible workers who have a full or partial loss of wages because they need time off work to care for a seriously ill family member or to bond with a new child. 
Laguna Woods Village residents are also encouraged to check the village's dedicated webpage here. The Assemblywoman will also routinely connect with Laguna Woods Village TV for updates. 
Senior Specific Hours (Grocery Shops/Pharmacies):
Specifically, for Laguna Woods Village residents - 
For all seniors: 
---
Updates on testing guidelines/statistics: 
All updates for tests and treatments are aggregated from the California Department of Health.
If you are seeking information around testing for COVID-19 (updated April 29th): 
Please continue to: 
Per the California Department of Health, there are currently twenty-two public labs in CA testing for the virus.
If you believe you are in need of testing, the general guidance remains the same, but may differ by County: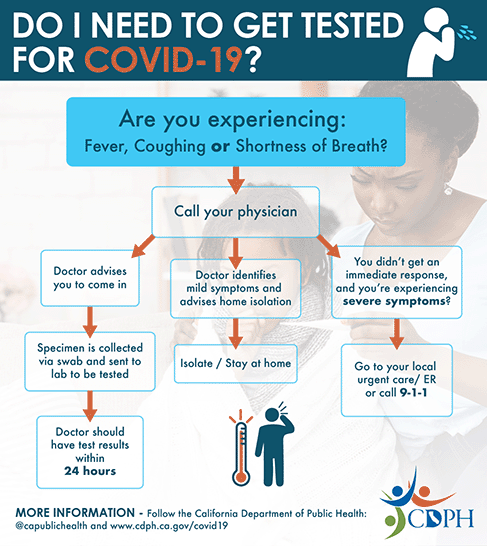 Additional guidance from the California Department of Health can be found on their website. If you believe you need to self-quarantine, the CDC has a page on how to effectively do so. 
---
Guidance on Evictions and Foreclosures
Evictions: On April 6, 2020, the Judicial Council adopted Emergency Rules which effectively stop residential and commercial evictions for the duration of the COVID-19 crisis. This rule applies to all eviction cases and will be in effect until 90 days after Governor Newsom lifts the COVID-19 state of emergency, or if it is amended and/or repealed by the Judicial Council.
An exception to these protections, is if a court should find that an eviction "is necessary to protect public health and safety."  E.g. If there is a domestic abuser in the home who must be evicted to protect the health and safety of another tenant living in the same household. 
Additionally, Governor Newsom also issued Executive Order N-37-20on March 27, 2020, banning the enforcement of eviction orders for renters impacted by COVID-19 through May 31, 2020. This order prohibits tenants from being evicted for nonpayment if they were previously current on their rent. Tenants are required to declare in writing, no more than seven days after rent is due, they are unable to pay all or part of their rent due to COVID-19, while providing supporting documentation.
Foreclosures: Courts are prohibited from taking action on all foreclosure cases, regardless of the stage in the process. Additionally, all legal deadlines for filing foreclosure cases are postponed, while the period for exercising rights in a foreclosure cases have been extended. On March 25, 2020, the state Department of Business Oversight secured support from national banks, state banks and credit unions for temporary delays (up to 90 days) in mortgage payments and foreclosure sales and evictions for homeowners who have economic impacts from COVID-19 so please reach out to your lender to look at options. 
Important Note: While these Emergency Rules effectively puts evictions and foreclosures on hold likely through the summer, they do not establish new tenant rights or defenses to an eviction, nor do they address requirements for providing documentation to landowners when tenants are unable to pay rent due to a loss of income as a result of COVID-19. 
---
Applying for benefits for Employees and Small Businesses
4/14:
EDD update: Please note, due to the current influx of EDD application:
Unemployment benefits: If your hours have been reduced or your employer has shut down, you can file an Unemployment Insurance (UI) claim with EDD. UI provides partial wage replacement benefit payments to workers who lose their job or have their hours reduced, through no fault of their own. Learn more here. 
Small Business Assistance: Up $2 million in assistance is available for small businesses,and nonprofits that have sustained substantial economic injury either as a direct result of COVID-19. The loan interest rate is 3.75%. 
Applicants may apply online, receive additional disaster assistance information and download applications at https://disasterloan.sba.gov/ela. Applicants may also call SBA's Customer Service Center at (800) 659-2955 or email disastercustomerservice@sba.gov for more information on SBA disaster assistance. Individuals who are deaf or hard‑of‑hearing may call (800) 877-8339.
Completed applications should be mailed to:
U.S. Small Business Administration
Processing and Disbursement Center
14925 Kingsport Road, Fort Worth, TX  76155.
An employer can provide an employee who is expected to return to work this below form, which would allow them to file for unemployment insurance without having the requirement to search for work (since they'd be expected to return to their current employer): https://www.edd.ca.gov/unemployment/Partial_Claims.htm
Deferred tax assistance: Under the governor's new executive order, the state will also be offering deferred tax payments to small business owners. Please learn how to apply here. 
Additional resources:
CalFresh: is California's food stamps (SNAP) program. Qualified applicants can receive up to $192 a month per household member on an EBT card.
If you are disabled, age 60 or older, or you do not have access to cooking equipment, you might also qualify for the CalFresh prepared meals program.
CalWORKS: CalWORKs is a welfare program that gives cash aid and services to eligible needy California families.
In-Home Supportive Services: The IHSS Program will help pay for services provided to you so that you can remain safely in your own home. To be eligible, you must be over 65 years of age, or disabled, or blind.  Disabled children are also potentially eligible for IHSS.  IHSS is considered an alternative to out-of-home care, such as nursing homes or board and care facilities.
---
Support for families/communities
For any families who may be financially impacted by COVID-19 and worried about paying for utilities and essential services, please see the latest updates from: 
Cable/Mobile
Utilities
Banking: 
Irvine Company |  For renters  /  For businesses
If you become aware of price gouging or unscrupulous COVID-19 practices, please report to local law enforcement or the Office of the State Attorney General.